Quantum Valley Lower Saxony Hosts European Quantum Technologies Conference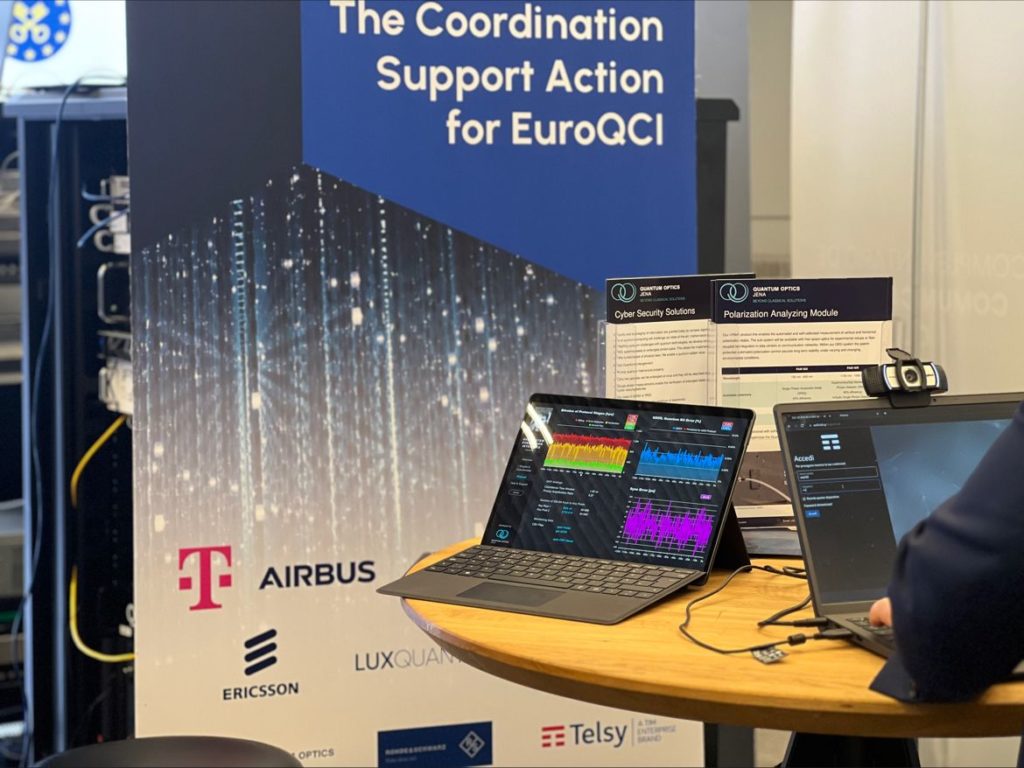 HANNOVER, GERMANY – From October 16th to 20th, 2023, Quantum Valley Lower Saxony proudly hosted the highly anticipated biannual event, the 'European Quantum Technologies Conference.' The event unfolded at the prestigious Hannover Fairground, attracting an esteemed gathering of professionals and experts in the field.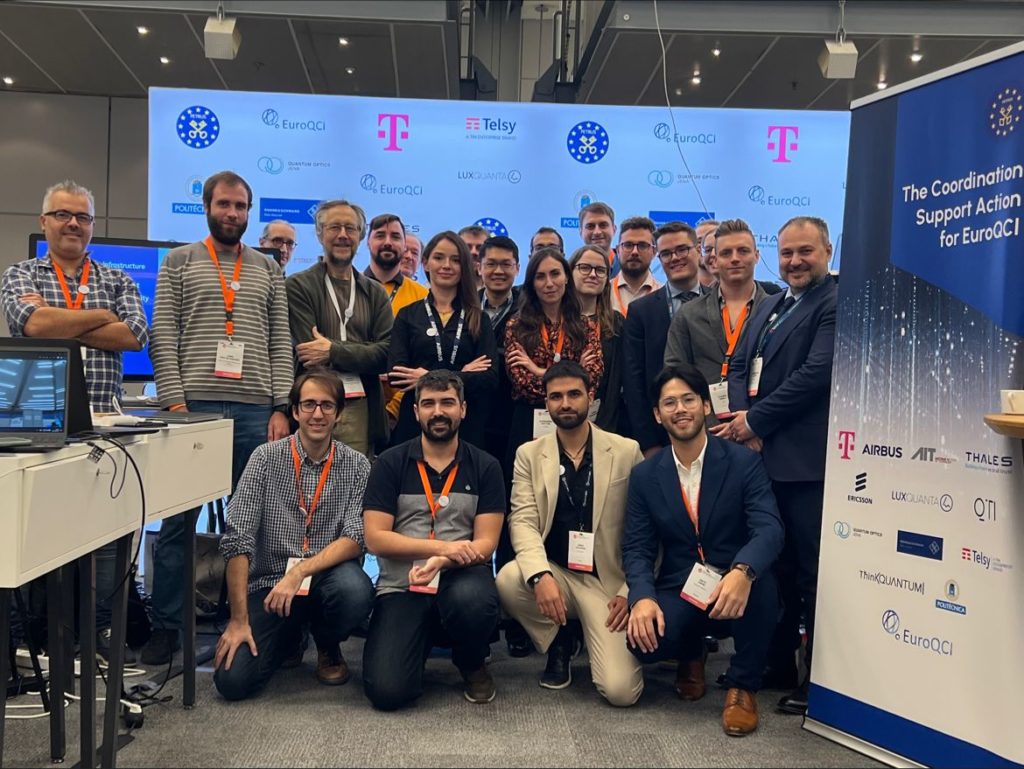 At the forefront of the conference was a remarkable demonstration of Quantum Key Distribution (QKD) technology by the Coordination and Support Action (CSA) for European Quantum Communication Infrastructure (EuroQCI), Petrus. Thisfollows another successful demonstration coordinated by Petrus earlier this year at the Digital Assembly EU in Stockholm, showcasing the advancements and potential of QKD in Europe. In collaboration with participants of the DIGITAL program "EU secure Quantum Communication Infrastructure (DIGITAL-2021-QCI-01)" and a dedicated local team, Petrus demonstrated the ground-breaking capabilities of QKD. Petrus, led by Deutsche Telekom in conjunction with Airbus, Thales, and AIT, spearheads the CSA for EuroQCI Project contracted by the European Commission. Notably, key partners in this demonstration included Ericsson, LuxQuanta, Quantum Optics Jena, QTI srl (Quantum Telecommunications Italy), Rohde & Schwarz, Telsy, ThinkQuantum, and Universidad Politecnica de Madrid.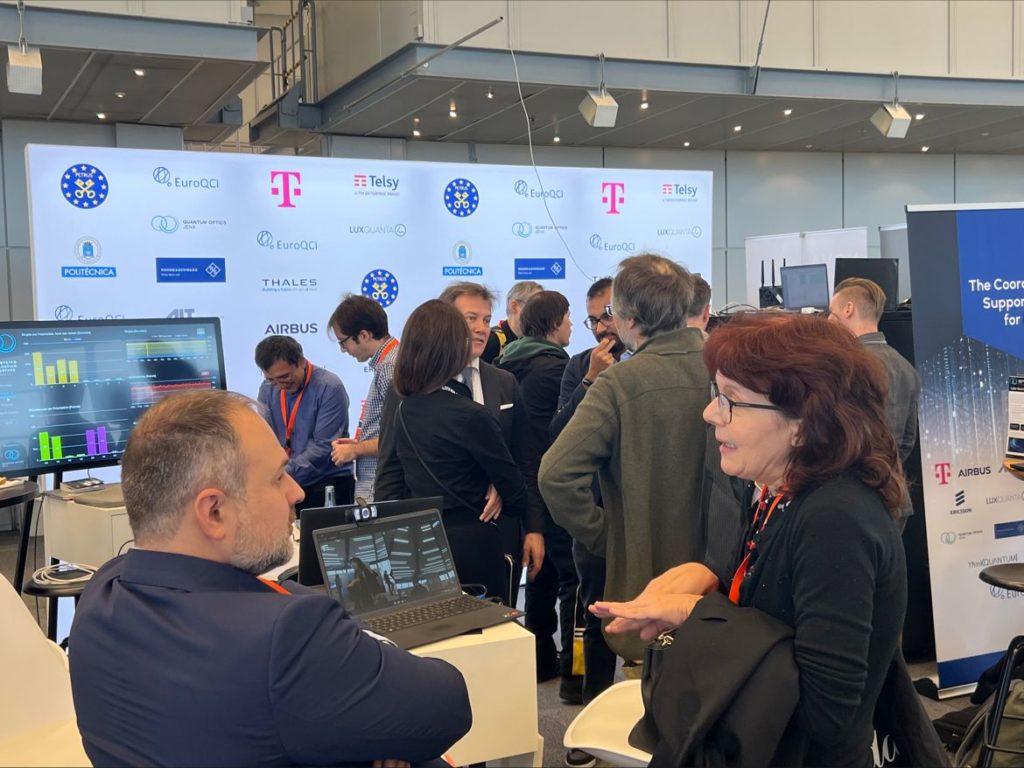 The demonstrator showcased a secure network using QKD as underlying technology. The strong European capabilities were evidenced by the interoperability of different QKD technologies, different European vendors and different QKD protocols. The system included an application agnostic and vendor independent key management and control layer to enable quantum-secure video service via end-to-end encryption.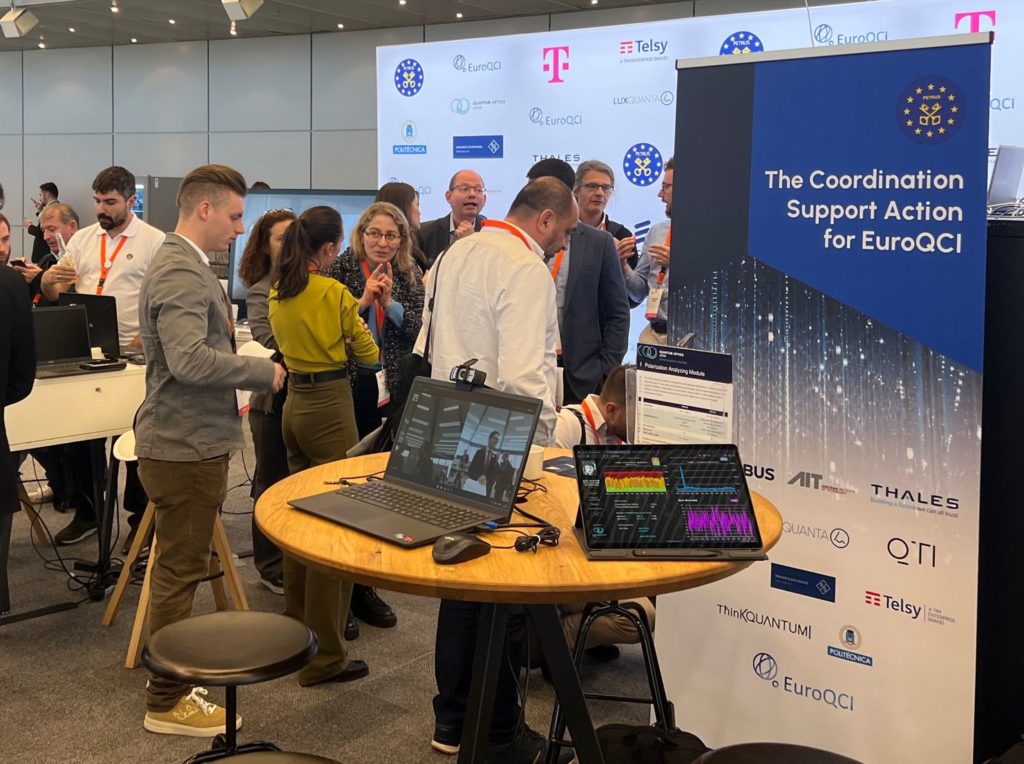 Quantum technology is poised to unlock unprecedented possibilities, ushering in a new era. However, it also brings about a quantum threat, particularly concerning encryption. Quantum computers possess the capability to decipher encryption methods that safeguard our data. QKD is a security building blockrooted in quantum mechanics and which is resistant to the quantum threat. QKD generates shared secret keys between communication endpoints, ensuring a quantum-safe approach. These keys remain immune to any computational attack, present or future, offering perfect forward secrecy and safeguarding past information even in the unlikely event of a key compromise.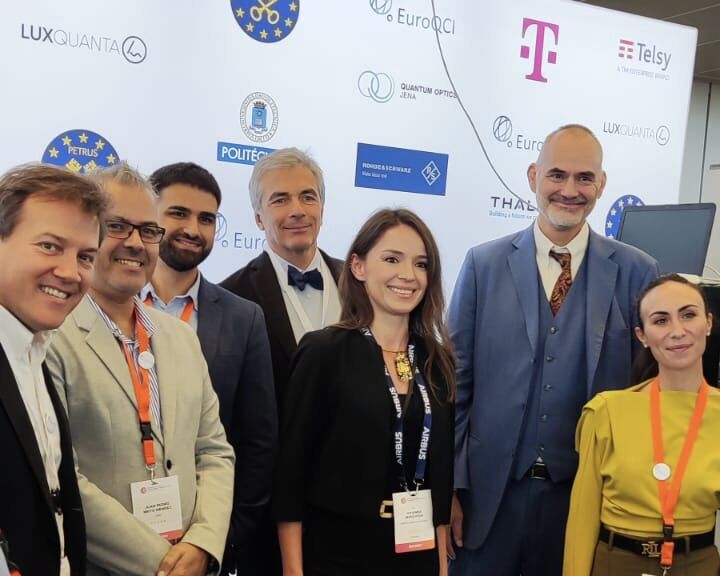 The EuroQCI initiative has garnered widespread recognition and support for addressing the need of secure quantum communication infrastructure within the European Union. All EU Member States have signed the EuroQCI Declaration, emphasizing the necessity of a comprehensive European quantum communication infrastructure. This initiative, aligned with academic research from the Quantum Flagship, is further backed by the European Commission's commitment to supporting the development of EU-27 based supply chains for quantum devices and deploying national Quantum Communication Infrastructures within the Digital Europe Programme.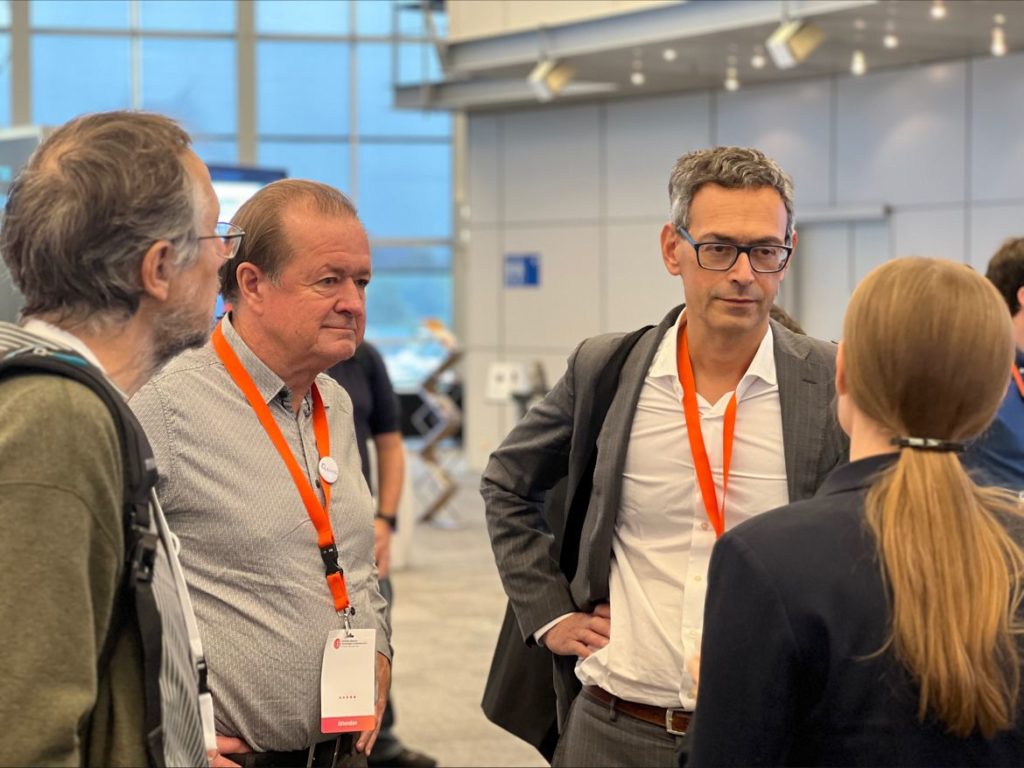 EuroQCI
Secure communication via Quantum Key Distribution (QKD) forms a vital aspect of the European network's resilience against cyber threats. The initiative aims to foster international collaboration and research in quantum communication technologies, ensuring Europe's leadership in this critical field.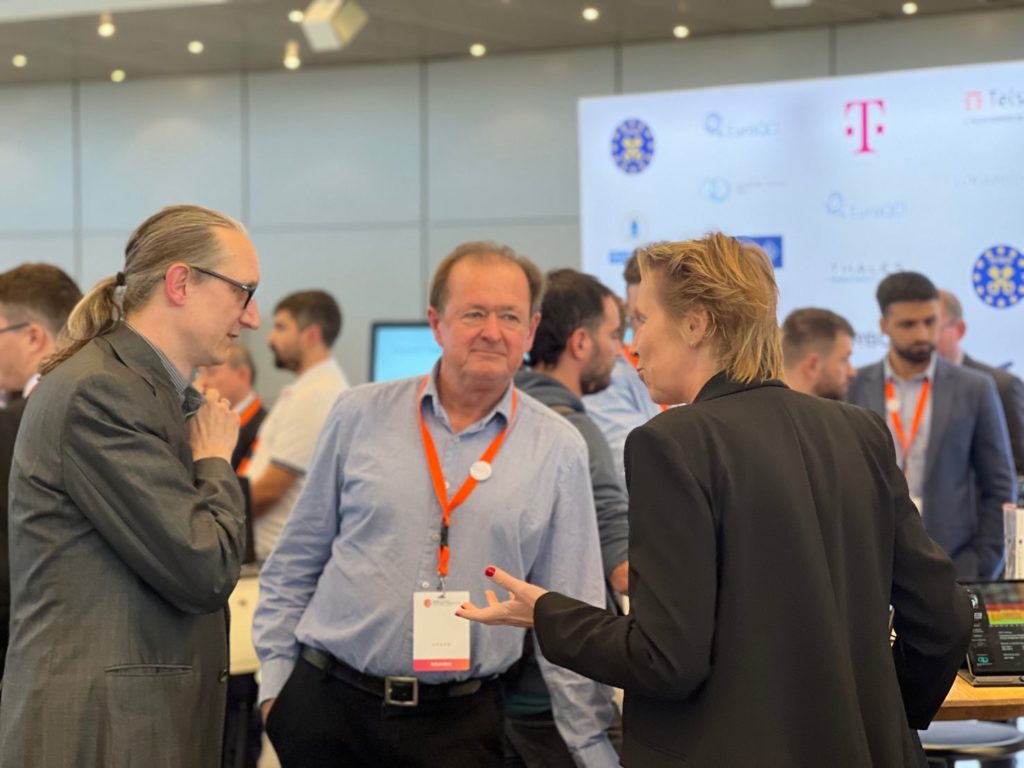 See also
https://www.upm.es/investigación?id=CON02412&prefmt=articulo&fmt=detail
https://www.computerworld.es/tecnologia/la-universidad-politecnica-de-madrid-exhibe-musculo-en-comunicacion-cuantica-durante-el-eqtc
https://digital-strategy.ec.europa.eu/en/policies/european-quantum-communication-infrastructure-euroqci
PETRUS
Facilitating collaboration between industry and government for EuroQCI projects across EU member states, ensuring shared standards and smooth interoperability. Petrus actively engages in fostering a robust ecosystem by supporting research, innovation, and the development of a secure and efficient quantum communication infrastructure across Europe.
Deutsche Telekom
Europe's leading telecommunication company offering mobile, fixed-line, internet, and digital TV services with a vast customer base in Europe and the United States.
Airbus
Global pioneer in aerospace, specializing in commercial aircraft, helicopters, defense, and space sectors, innovating in quantum technologies. and communication systems. Airbus is leader in Europe of different quantum-secure communication system design and implementation activities for terrestrial and space segments.
AIT
European leader in quantum cryptography, coordinating major projects of the Quantum Technologies Flagship and contributing to EuroQCI initiative by advancing quantum communication devices.
Thales
Thales, a global technology leader in Defence & Security, Aeronautics & Space, and Digital Identity & Security, significantly invests in R&D, particularly in quantum technologies, to help make the world safer.
Ericsson
We are a world leader in the rapidly changing environment of communications technology – by providing hardware, software, and services to enable the full value of connectivity.
www.ericsson.com
Rohde & Schwarz
Leading the way in innovative solutions for safer, connected worlds. Cutting-edge solutions in the fields of test & measurement, networks & cybersecurity, broadcast & media, and beyond.
LuxQuanta
Delivering Quantum Key Distribution (QKD) solutions that are easy to install while meeting the highest security requirements, pioneer in Continuous Variable QKD technology. LuxQuanta leads QUARTER European Consortium, determined to shape the future of quantum-secured communications.
www.LuxQuanta.com
QTI
Italian Quantum Key Distribution (QKD) company, offering industrial-grade systems and products for quantum networks, dedicated to securing digital communications.
www.qticompany.com
Quantum Optics Jena
Leader in quantum key distribution systems based on entangled photon-pairs, offering cybersecurity solutions based on physical laws for enhanced security and multi-party networks.
ThinkQuantum
ThinkQuantum offers QRNG and QKD solutions for terrestrial quantum networks and for the Space domain with Quantum satellite payloads, Optical Ground Stations and Quantum Receivers.
Telsy
Leading provider of cybersecurity and cryptography solutions, contributing to the secure communications and information ecosystem also thanks to the skills and solutions coming from the owned companies QTI, active in the QKD, and TSWay active in the Threat Intelligence.
www.telsy.com
Universidad Politecnica de Madrid
Pioneering quantum tech standardization, integration in optical networks and security infrastructures and coordinating major projects and building Madrid Quantum Communication Infrastructure, aligned with EuroQCI.
www.upm.es